Adidas, the German sportswear giant is the latest company to cut ties with Mr. West, now legally known as Ye, after his antisemitic remarks. Adidas announced in a press release made on October 25 that the company has made the decision to end production of Yeezy branded products effective immediately.
Kanye's outbursts don't age well. In an October 16th episode of the 'Drink Champs' podcast, Ye declared: "I can say antisemitic things, and Adidas can't drop me. Now what?" So, just like Kanye, you're probably wondering how Adidas was able to cut ties with Ye when they've signed a legally binding contract. The answer: a "morality clause".
How Can Adidas Terminate the Relationship When There is a Contract?
As we are seeing with Mr. West, influencers, celebrities, and athletes can engage in offensive behavior, scandal or controversy that can pose significant risk to your brand. To protect against this risk, companies will typically include "morality clauses" in contracts. The breach of a "morality clause" gives brands cause to terminate the relationship. In contract negotiations, it's important to clarify how violations of a morals clause will be handled. For example, does the company have the right to publicly announce their dissociation? Do they have to include mutually agreed upon language in the announcement? Does the creator have time to cure the violation? i.e., publicly apologize. Influencers and creators should know exactly what behavior violates their morals clause. Language in contracts can be ambiguous ranging from violating any law, to a broader scope that may encompass any activity detrimental to the brand's reputation. Whether or not the clause is actually enforceable, or not, is a topic for another post.
Who owns the Yeezy Sneaker?
This is a question of intellectual property ownership. Intellectual property (IP) refers to creations of the mind, such as inventions; literary and artistic works; designs; and symbols, names and images used in commerce. IP is protected in law by patents, copyright and trademarks.
The "Yeezy" brand name is owned by Mascotte Holdings Inc., Ye's company. But, the Yeezy design patents are owned by Adidas AG. There is one exception for Yeezy Slides, in which Kanye is named as the Inventor with rights being assigned to Mascotte Holdings.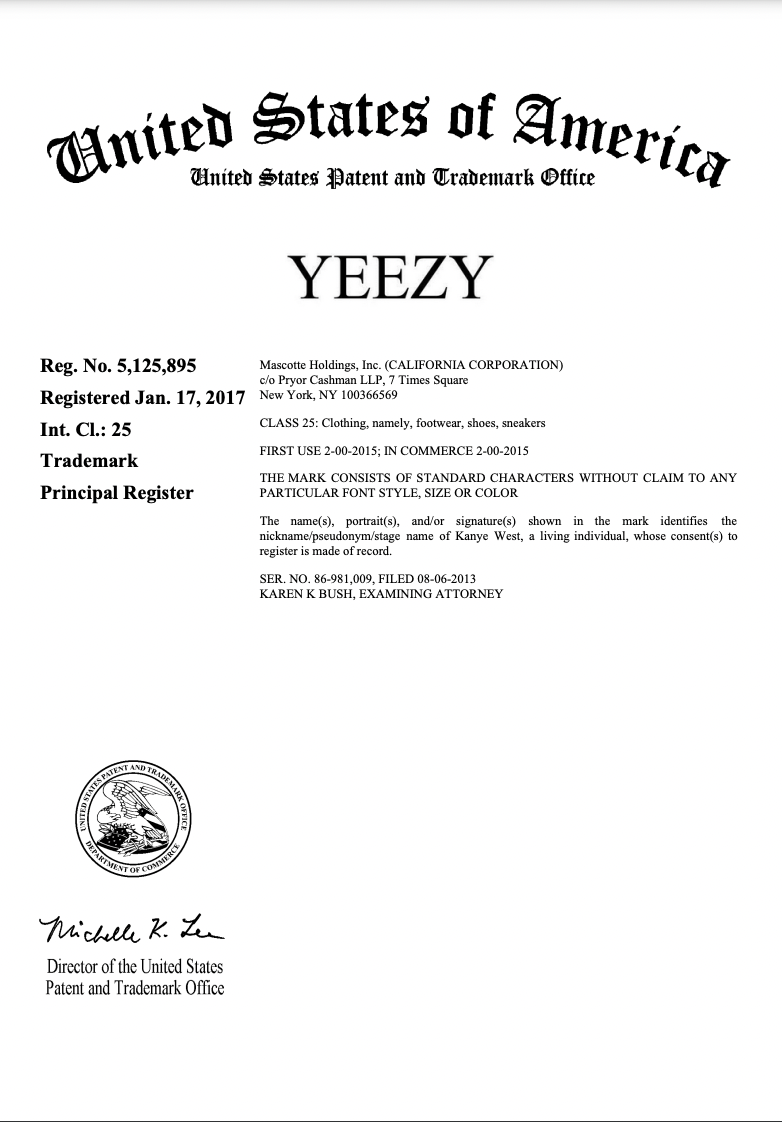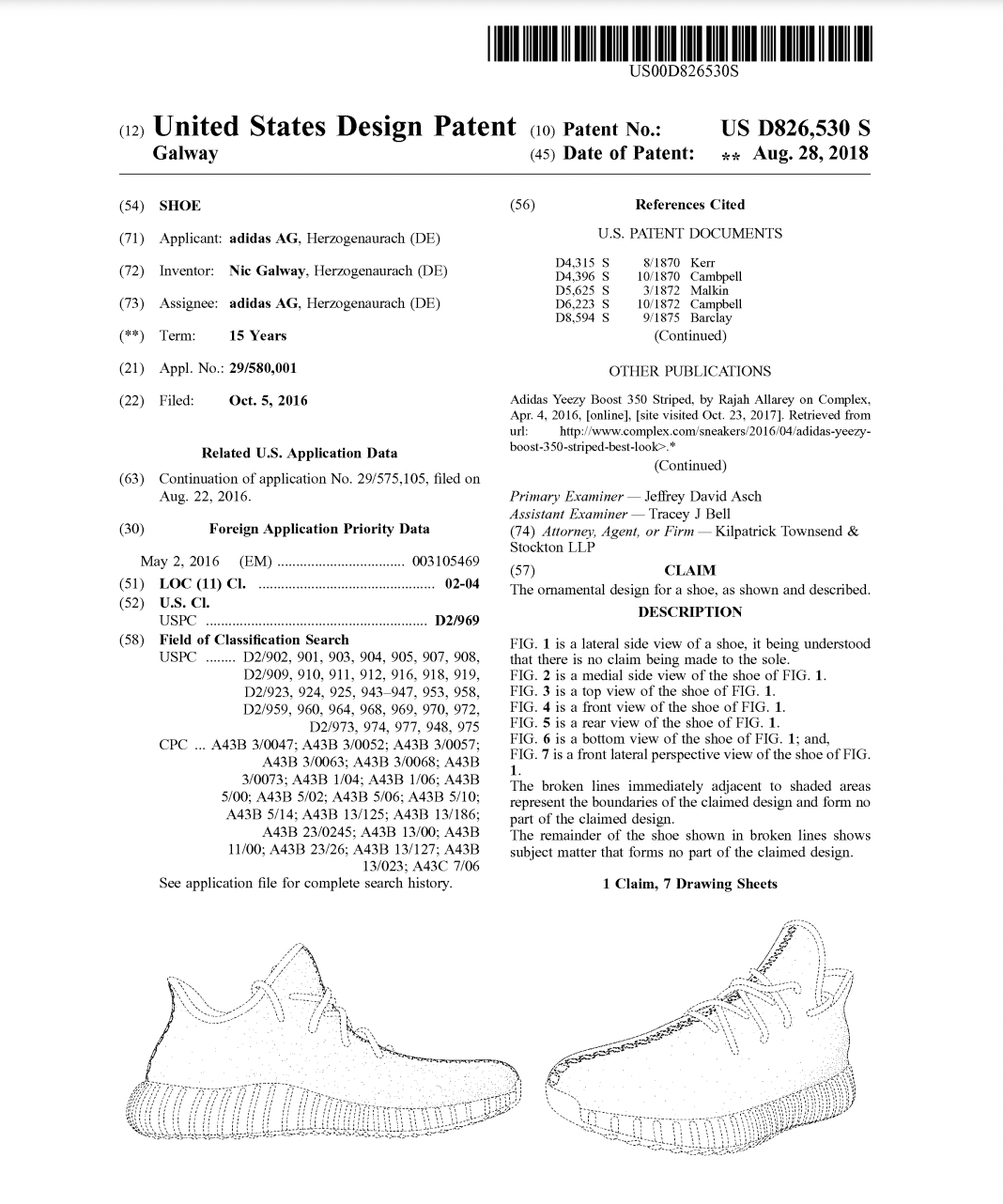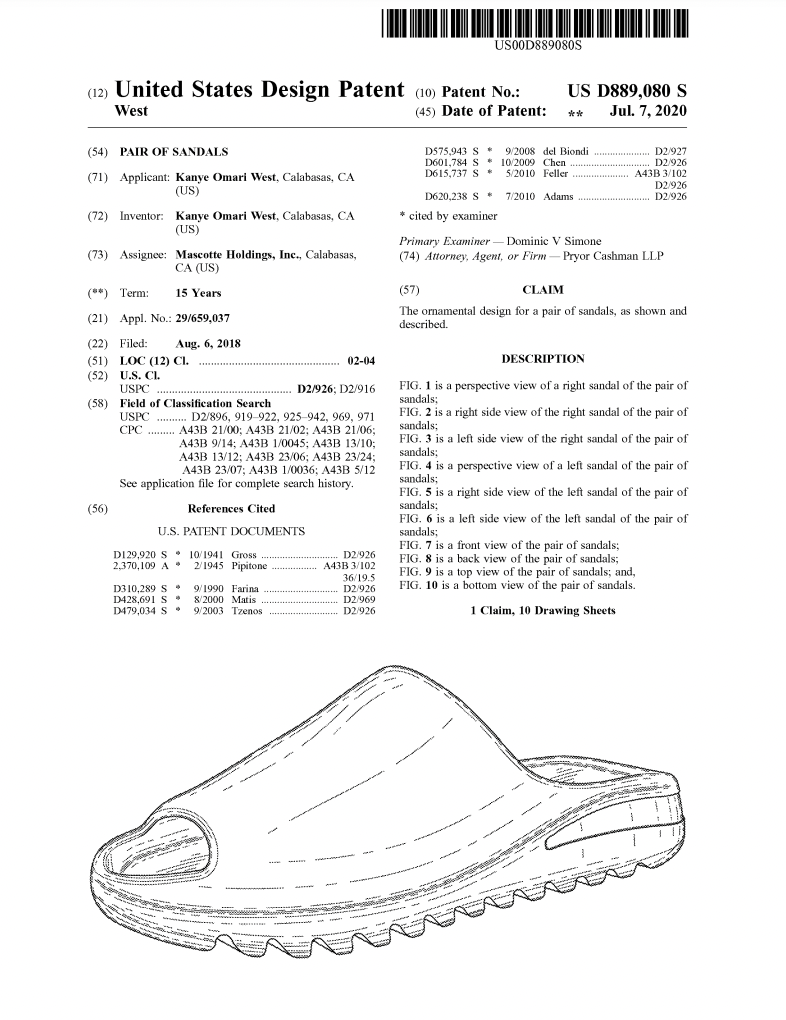 Adidas also owns the Copyright to two of the more popular Yeezy® Boost 350 designs/ colorways: the "Turtle Dove" and the V2 "Beluga" under the Star Athletica separability standard.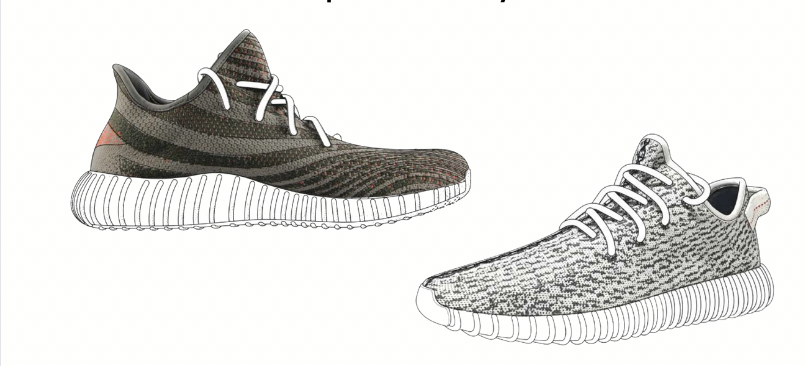 As you can see, IP plays a huge role in fashion. It's important to understand Intellectual Property is not just one category of law.
What does this mean for Adidas?
As the owner of Yeezy Design Patents, Adidas AG allegedly intends to continue manufacturing and selling existing Yeezy product designs using its own branding after ending its partnership with Ye. Adidas management has indicated that it will start selling the products under the company's brand at the beginning of next year, according to analysts at Morgan Stanley and RBC Capital Markets.
"Adidas has the rights to existing Yeezy product designs and can sell these using Adidas branding (not Yeezy branding) following the termination of the Yeezy partnership, which Adidas intends to do" in the first quarter of next year, RBC analyst Piral Dadhania said in a note. "Speaking to the company, it believes it can limit the loss of revenues through this strategy, and will also save on expenses related to royalty and marketing fees no longer payable in 2023."
What does this mean for Ye?
Kanye unfortunately, must create NEW designs but, he can continue to use the Yeezy brand name to sell them in Class 025. This was confirmed by Ye's attorney in a text message that Kanye posted on IG. But, don't try this at home- you don't want to breach your attorney-client privilege like Kanye just did.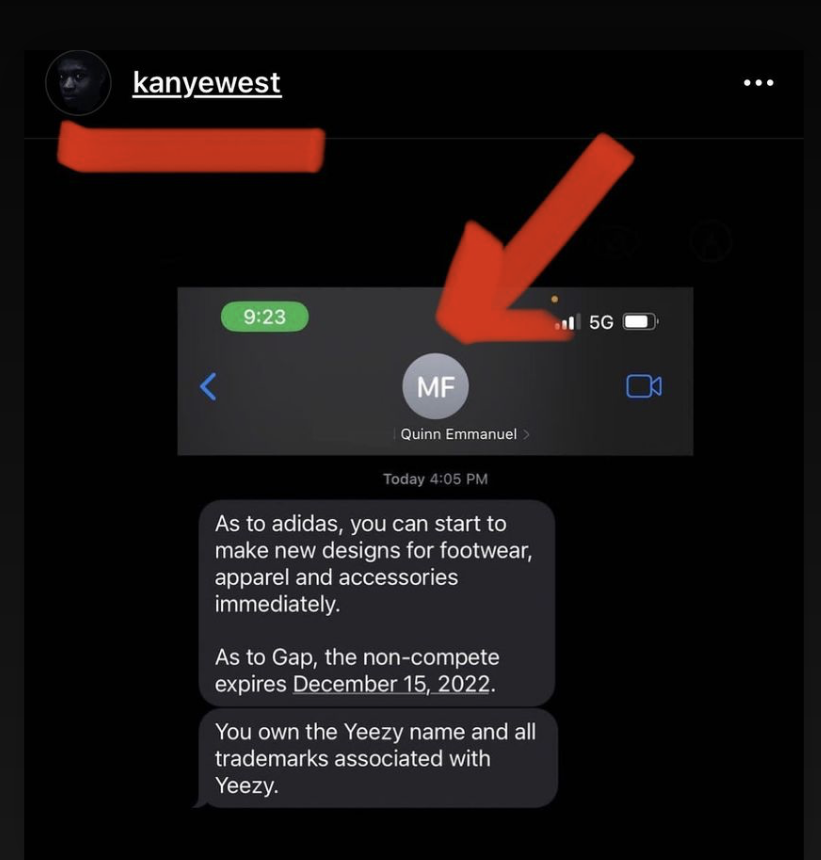 Attorney Client Privileges
What, exactly, is attorney client privilege. It's a legal rule that protects the confidentiality of communications between lawyers and clients. But, there are a few exceptions. One of these is that there is no attorney-client privilege protection when communications are intentionally provided to a third-party. Here, the text messages between Kanye and his attorney were protected by attorney client privilege, meaning his attorney was required to keep this information confidential and private. But, when Kanye took a screenshot of these text messages and intentionally shared them on social media this rule no longer applies and the messages, if admissible, could be used as evidence against him in a court of law.
Non Compete Clauses:
Kanye's attorney refers to a non-compete clause in the text message above. This is important because it can put limitations on the scope of your trademark rights. Essentially, a non-compete clause restricts how Kanye can use the Yeezy Trademark and prohibits him from competing with a brand directly or indirectly while under contract and for a specific duration of time after the deal has ended. Usually a non-compete agreement means that you can't (1) develop, design or offer to sell the same products or services and (2) work for a competitor or competing individual. Although, it appears there isn't an Adidas non-compete clause to worry about here.
If you're wondering what a non-compete would look like, Kanye uploaded a 'summary of restrictions' letter onto his Instagram page which he received after he sent a formal notice of his contract termination with Gap. The restrictions with Gap included: "Neither Yeezy nor Ye may use, wear, sponsor, promote, market, advertise, endorse, design, manufacture, license, sell or provide consulting services with respect to any of the following products under the Yeezy Trademarks or Ye's likeness or any other identifiable attribute, feature or indica of Ye. Specifically, the following categories were mentioned:
Restricted footwear: athletic, casual, streetwear, sportswear, including football cleats, running shoes, basketball shoes, etc.

Restricted apparel: athletic, athleisure, streetwear & sportswear, including polo shirts, shorts, pants, socks, undergarments.

Restricted accessories: athletic, athleisure, casual, streetwear, sportswear, & lifestyle accessories such as inflatables/balls, headbands, wristbands, bags, gym bags, belts, scarves, etc.
See the full list of restrictions below.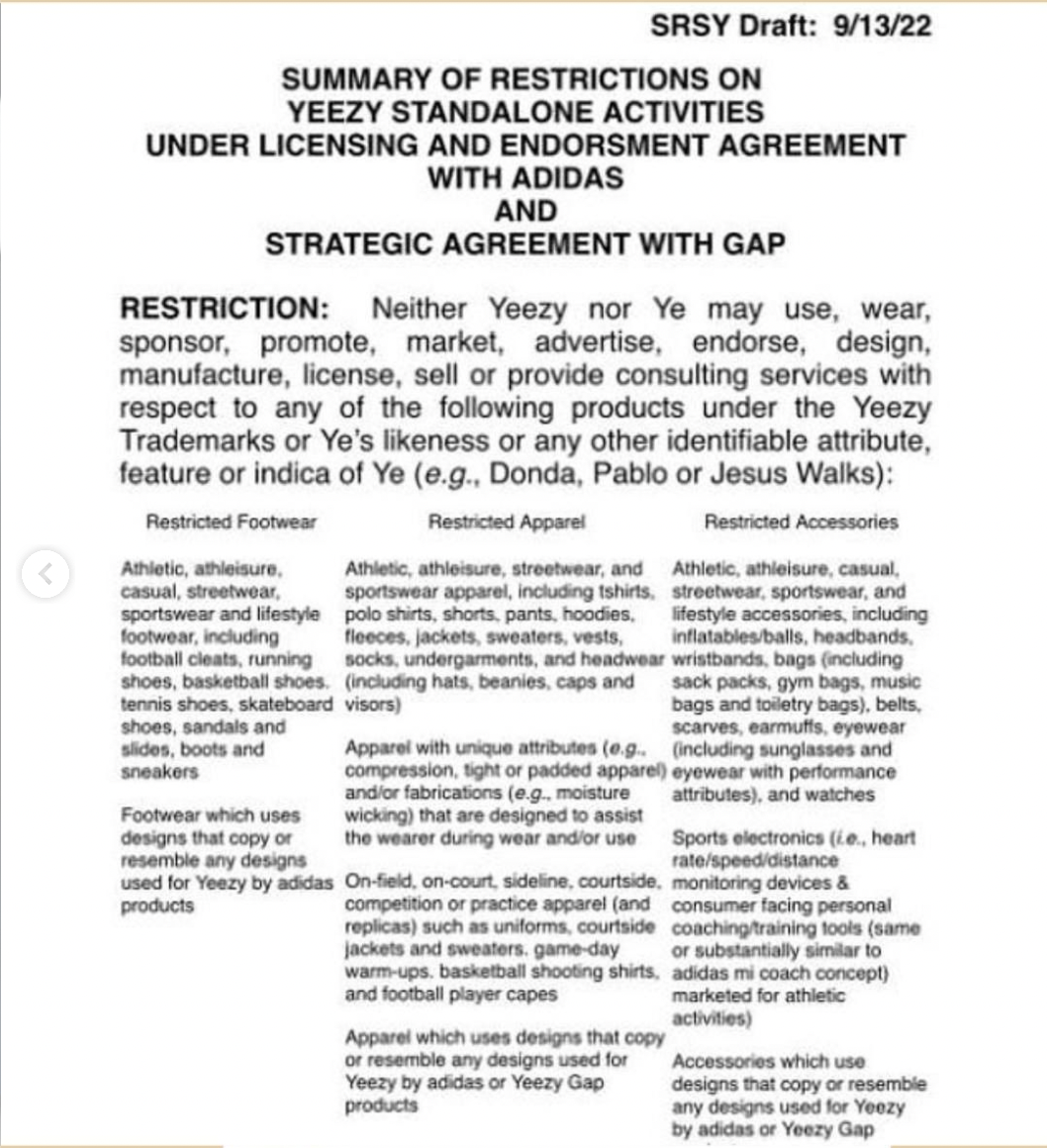 𝘴𝘰𝘶𝘳𝘤𝘦: 𝘥𝘢𝘪𝘭𝘺𝘮𝘢𝘪𝘭.𝘤𝘰.𝘶𝘬
Takeaway:
There are obviously some major legal issues to consider when entering into a co-branding partnership. Even if co-branding is successful, it can result in the dilution of both brands. Also, if something negative happens to one brand, there is a risk that it could impact the other. Do your due diligence and evaluate whether co-branding is the right strategy for your company. Even if you do find the perfect co-branding partner don't under estimate the amount of legal preparation needed to govern the business relationship.
🔔 Disclaimer: This post does NOT constitute legal advice. All of our blog posts, content, and comments online and on social media are for general informational and educational purposes only. Viewing this post does not create an attorney-client relationship with The Law Office of Clarissa Harvey. We are not responsible for any action taken by a reader based upon any information on social media. You should always seek appropriate legal advice offline from an attorney licensed in your jurisdiction to discuss the specifics of your case.
© 2022 The Law Office of Clarissa Harvey