In a clash of taco titans, fast-food giant Taco Bell has recently petitioned to cancel Taco John's trademark for "Taco Tuesday." in what they are calling a bid to "liberate the phrase for restaurants nationwide". Let's taco bout the details and explore the valuable intellectual property lessons it offers to businesses.
The Battle for Taco Tuesday:
Taco John's, a US-based fast-food chain, managed to secure a trademark for the phrase in 1989, granting them exclusive rights to use it in the restaurant industry. Recently, Taco Bell filed a petition with the United States Patent and Trademark Office (USPTO) to cancel Taco John's trademark and a small business called Gregory's who owns a "Taco Tuesday" registration in the state of New Jersey. Taco Bell is arguing that the phrase "Taco Tuesday" is a generic term that has become a common part of the lexicon and should not be exclusively owned by a single entity (any one person or company, large or small). In fact, Taco Bell even commissioned a survey and found 86% of consumers nationwide believe "Taco Tuesday" is a common name or phrase not associated with any particular company. In other words, the phrase has now become just an informational message that unfortunately now fails to function as a trademark.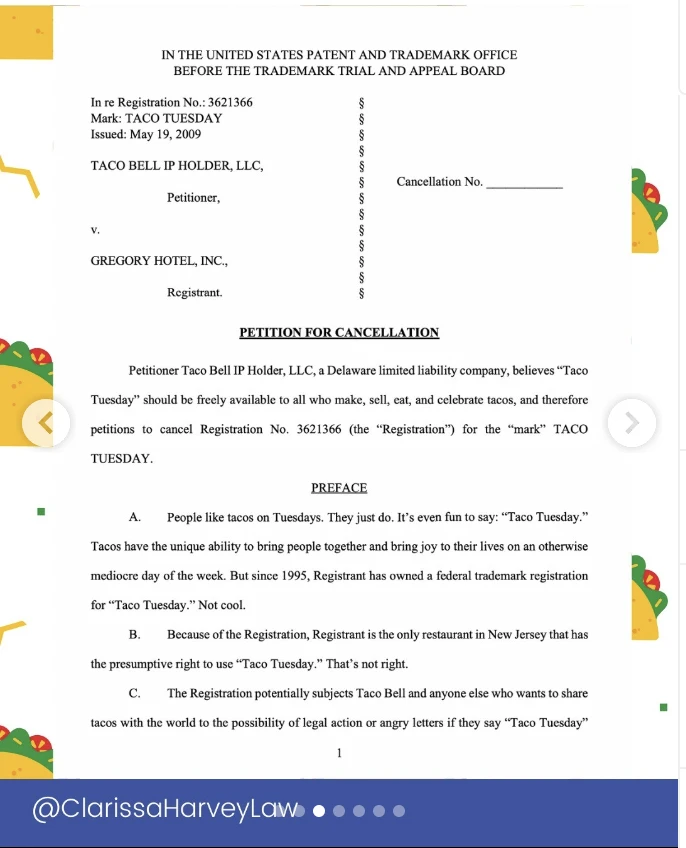 Taco Bell Partners with Lebron James:
LeBron James is not only a global icon, but he's also a big taco fan. Ironically, Lebron previously applied to register TACO TUESDAY (the same mark) himself for advertising and entertainment services, videos, podcasting, etc. and it was rejected. However, Lebron says that's exactly what he wanted to happen—he believes the USPTO deeming the phrase incapable of functioning as a trademark helps ensure he won't get sued for using it. Starting May 22 , LeBron James will star in an ad titled "Taco Bleep," highlighting the absurdity of "Taco Tuesday" being "trademarked" and encouraging the taco community to join together in support of the liberation movement.

Intellectual Property Lessons for Businesses:
Avoiding Generic Terms: Businesses should exercise caution when selecting trademarks to avoid choosing words that are commonly used in the industry. Generic terms are not eligible for trademark protection and can be easily challenged or canceled by competitors. Many terms that once functioned as trademarks include but are not limited to: escalator, zipper, aspirin, frisbee, saran wrap. These brands have all lost their trademark status because consumers have come to view them as the name associated with a whole category of goods. Other brands that live dangerously close to genericide include: kleenex, xerox, popsicle, band-aid etc.
Monitoring and Enforcement: It is crucial for businesses to actively monitor the marketplace to identify potential infringements or misuse of their intellectual property. Timely enforcement of intellectual property rights can help prevent unauthorized use and preserve the exclusivity and value of a brand. Taco Bell should have been sending out cease-and-desist letters or taking prompt legal action against infringers when necessary. But, it is clear they have not been consistently doing this over the years. They also haven't created any form of a "anti-genericide campaign" to educate consumers on how to properly use their mark. For example, BAND-AID has its jingle, "I am stuck on Band-Aid brand cause Band-Aids stuck on me," to remind consumers that BAND-AID is actually the name of the brand and not the name of any adhesive bandage with gauze in the center. Chrysler LLC launched its "[t]hey invented 'SUV' because they can't call them Jeeps®" campaign to remind consumers that not all SUVs are JEEPS. Even, Velcro brand has come out with a recent campaign.

The Taco Bell trademark dispute over "Taco Tuesday" highlights the intricate landscape of intellectual property rights in the business world. Businesses can learn valuable lessons from this, including the importance of avoiding descripitive and generic terms and monitoring and enforcement their trademarks. By understanding and implementing these intellectual property lessons, businesses can protect their unique assets and maintain a competitive edge in the marketplace. Consult with an intellectual property attorney to ensure you are taking the necessary steps to protect and preserve the exclusivity of your brand.
© 2023 The Law Office of Clarissa Harvey