10 New Trademark Applications!
No one ever knows for sure what rapper Kanye West is planning, but we do know that he filed 10 New Trademark Applications under Mascotte Holdings, Inc. this month for the standard character mark, YE™️, see below. In addition to his lenghty contributions to HipHop and the music industry he is very well-known as the owner of the creative content company DONDA, the fashion company Yeezy, and is a co-owner of the music streaming platform Tidal.
SOURCE: United States Patent and Trademark Office (USPTO) Trademark Status & Document Retrieval (TSDR)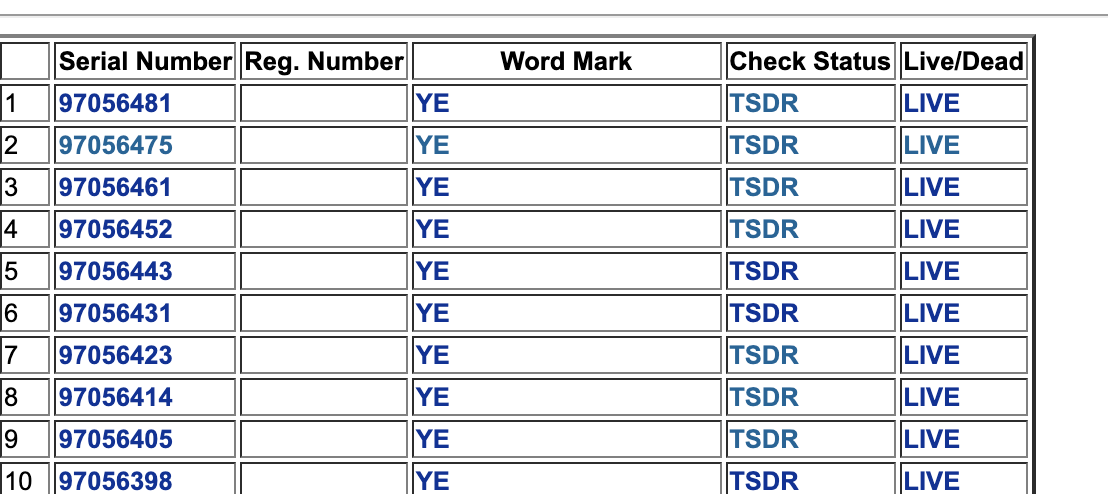 YE™️- The NEW Dating App You'll Want to Look Out for in 2022!
After recently separating from his six-year marriage with Social Media Influencer and Beauty Mogul, Kim Kardashian, matchmaking and the dating scene seem to be on his radar. One of the applications he submitted is for the International Class 45, an internent based social dating app. His timing is impeccable, as studies have shown that activity on dating sites has surged during the pandemic. Government shutdowns have had people craving real human connections and now they are anxious and ready to get back out there. Match Group, the parent company for 45 dating brands, including Tinder, Hinge, OkCupid and Match, reported an increase in downloads and subscribers. More specifically in March 2020, Tinder recorded its highest number of swipes on a single day: 3 billion. From March to May 2020, OkCupid saw a 700% increase in dates. And over on Bumble, video calls increased by 70%.
How Can Kanye File A Trademark Application Before Launching the App?
Kanye West filed an "Intent to Use" (1)(b) Trademark Application, which allowed him to reserve rights in his trademark while he prepares to launch his match making dating service. A trademark application filed with the USPTO must designate at least one filing basis. Section 1(b) of the Lanham Act, 15.U.S.C. § 1051(b) states that "…person who has a bona fide intention, under circumstances showing the good faith of such person, to use a trademark in commerce may request registration of its trademark."
Filing under Section 1(b)- is appropriate for an applicant, like Kanye, who has yet to start using his mark in U.S. commerce but, has a good faith intent to do so. It is not enough to simply come up with a catchy or clever name. Kanye, must still submit a Statement of Use (SOU) along with evidence of actual usage, referred to as a "Specimen", within six months in order to secure his Trademark registration. While the United States is a "first to use" country, filing an Intent-to-Use trademark application will still provide the applicant with a prirority advatange and "constructive use" of the mark. Meaning the law will treat him as if you had begun using the Trademark in commerce as of the filing date.
Thinking of starting a new business or releasing a new service/product line? Contact us today to secure exclusivity and ownership of your brand.