📸 Lisa O'Connor | Image used under license from Shutterstock.com
A Week After Launching"Rhode", Hailey Bieber, is facing

a Trademark Infringement Lawsuit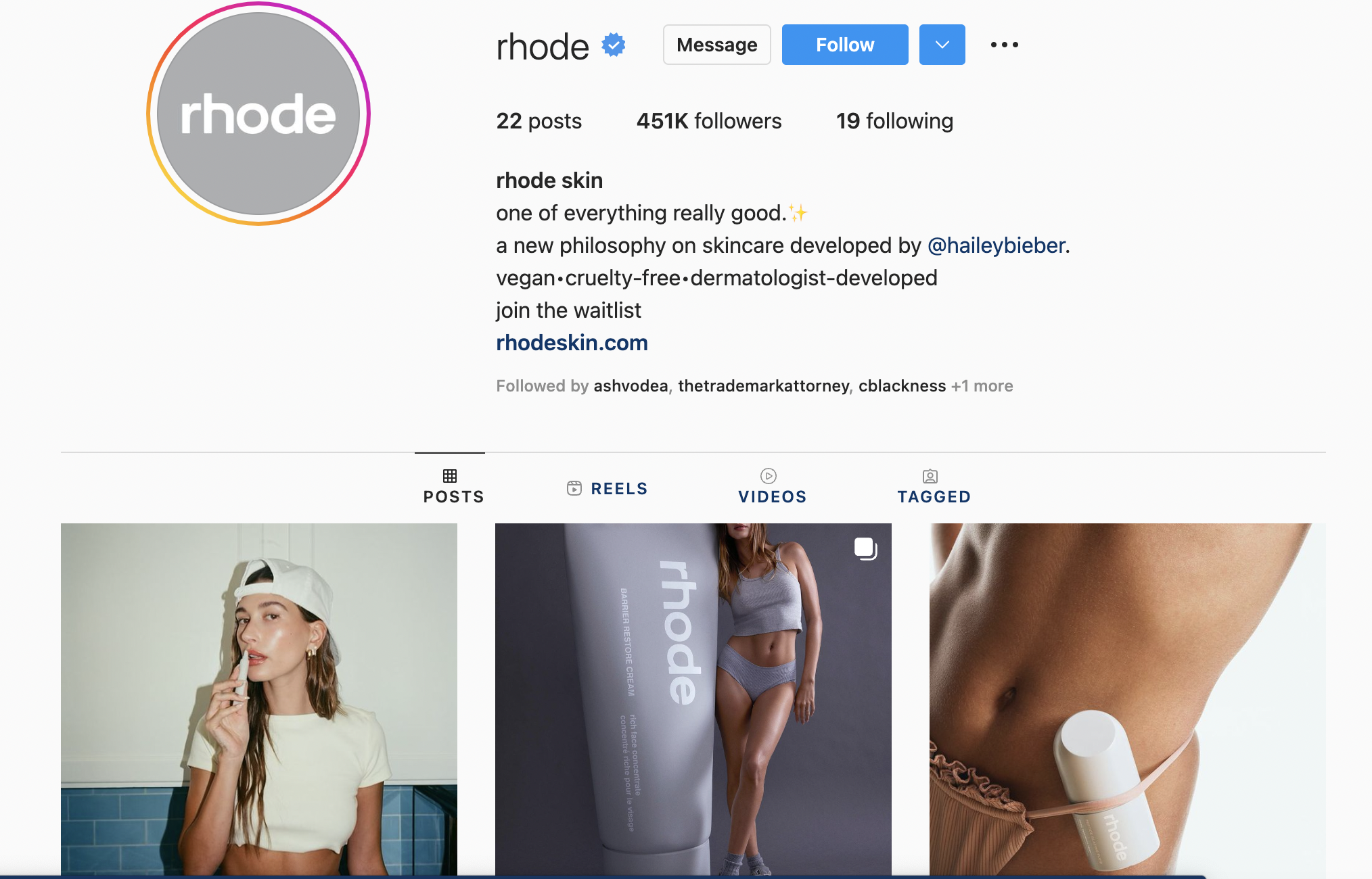 View this profile on Instagram
Hailey Bieber filed a section 1(b), intent-to-use, trademark application with the United States Patent and Trademark Office (USPTO) for the name "RHODE" in Class 003 for beauty and wellness products on December 30th, 2020. Fun fact: Rhode is actually Hailey's middle name. The application is still pending with the USPTO (Serial No. 90432582).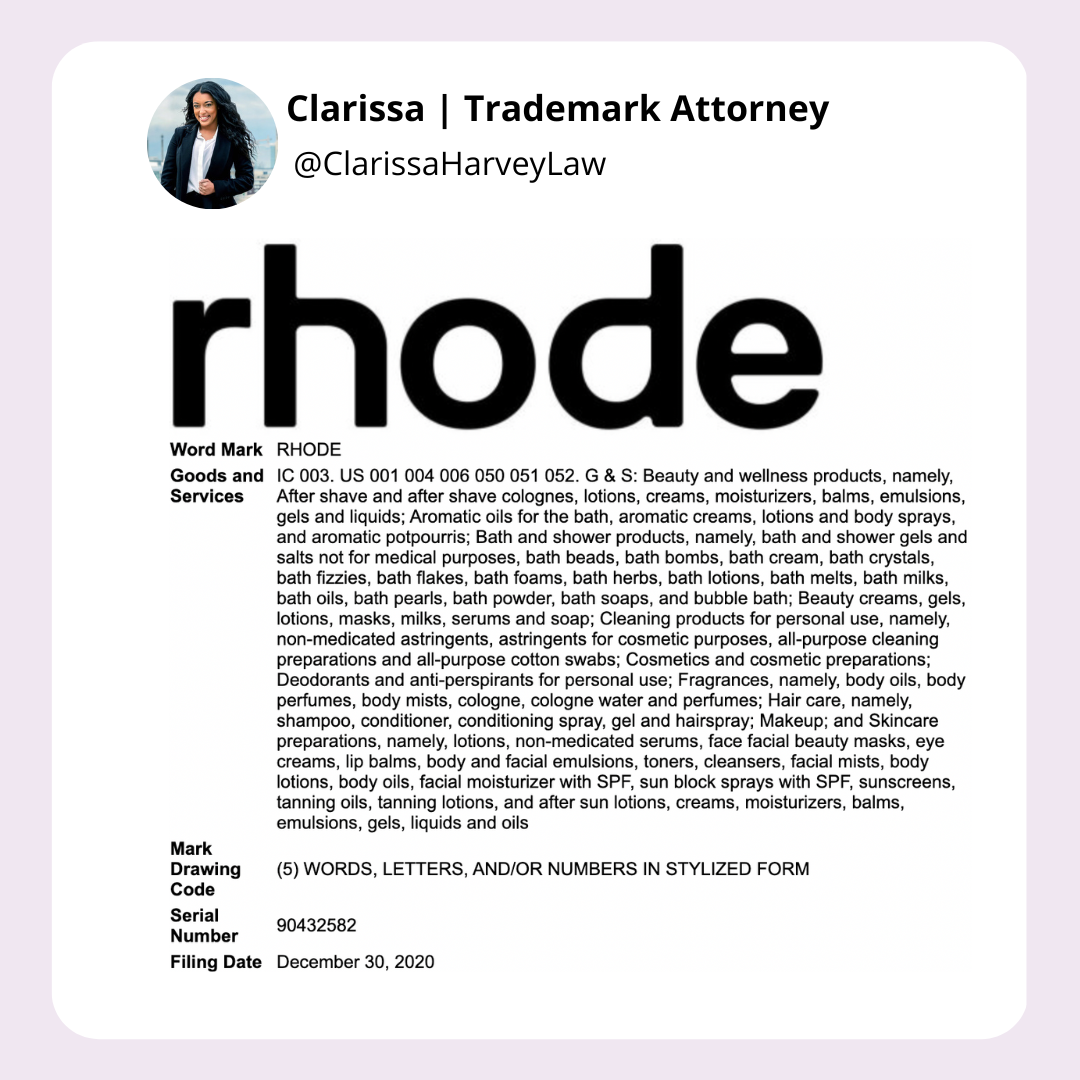 A year and half later, Hailey announced the debut of RHODE and officially launched her skincare company on June 15th, 2022. A fashion brand, with the same name, RHODE, filed a lawsuit for infringement one week later. The fashion brand registered their Trademark in Class 025 for clothing back in 2017 (U.S. Registration No: 5286239), selling their goods at major luxury retailers like Saks Fifth Avenue and Neiman Marcus.
Here are a few takeaway:
1. "Notice of Allowance" is not Registration
Receiving a "Notice of Allowance" from the USPTO for your 1(b) trademark application does NOT mean your trademark has registered or even guarantee that it will be. It just means your application appears to be entitled to trademark registration under the law and no opposition has been filed.

2. Don't forget about the "Natural Zone of Expansion"
Trademark protection generally extends only to the class and goods/ services the trademark owner listed in their application. However, the "natural zone of expansion" doctrine is a special exception to this rule. This is what the fashion brand is using to try to extend their trademark's rights into skincare and wellness products. The gray area — and the one usually litigated — is the extent of what additional items fall within this "natural zone of expansion". The fashion brand alleges the expansion is common amongst celebrities. Noting Gwyneth Paltrow's brand, GOOP, "markets and sells lifestyle products including, among other things, both fashion and skincare."
3. Be proactive and don't cut corners on the trademark search
If you are a clothing brand and know you're planning on expanding outside of Class 025, it's often a good idea to file a new application as soon as possible to avoid the huge expense of litigating this issue in court. And if you're a new skincare or cosmetic brand don't cut corners on the Trademark Search. It's always best to work with an experienced Trademark Attorney who can properly advise you on legal trends and coordinated classes, BEFORE filing, to see what prior rights might already exist.
If you'd like to discuss the best approach to protect your brand, here is a link to schedule a Strategy Call with our Firm. https://www.clarissaharveylaw.com/contact-us
🔔 Disclaimer: This post does NOT constitute legal advice. All of our content and comments on social media are for general informational and educational purposes only. Viewing this post does not create an attorney-client relationship with The Law Office of Clarissa Harvey. We are not responsible for any action taken by a reader based upon any information on social media. You should always seek appropriate legal advice offline from an attorney licensed in your jurisdiction to discuss the specifics of your case.
© 2022 The Law Office of Clarissa Harvey