Condé Nast, the owner of Vogue magazine, one of the longest-running and widely recognized fashion publications in the world has filed a lawsuit against rappers Drake and 21 Savage for false advertising, counterfeiting, and the unauthorized use of their trademarks to promote Drake's new album, "Her Loss". VOGUE argues that Drake and 21 Savages' use of their trademark is likely to cause dilution by creating a false association between them and Vogue magazine, impairing the distinctiveness of their mark, reputation and goodwill that they've acquired over the span of 130-years. Condé Nast owns more than 60 active and valid U.S. Trademark Registrations comprised of the word "Vogue" and/or its well-known logo, with the earliest dating back to 1908 (U.S. Reg. No. 0,069,530) for use in connection with magazines. The VOGUE Mark is also famous within the meaning of 15 U.S.C. § 1125(c).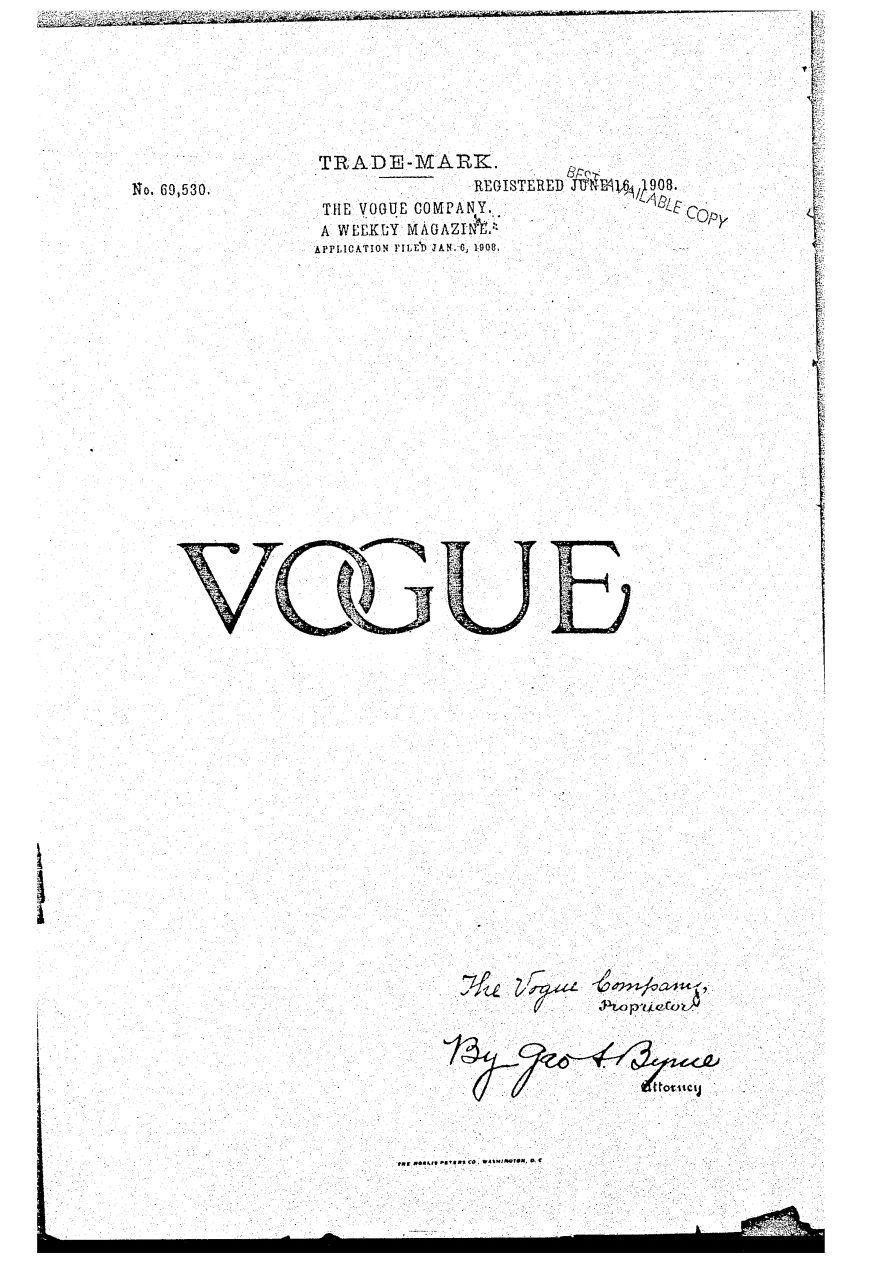 Trademark Dilution & Counterfeiting
There are a variety of ways your trademark can be infringed upon. Under the Dilution Act, famous trademarks are protected from "dilution", the weaken of a trademark's distinctive quality. Dilution derives from the premise that some marks are so well recognized that they deserve an additional level of protection beyond limiting them to establishing a likelihood of consumer confusion with another mark.
On the other hand, counterfeiting of a trademark occurs when a party creates goods that look exactly like the trademarked goods (including the stolen logo or other identifying mark) and selling them as the goods of the trademark owner.
Copyright and Infringement of Anna Wintor's Publicity Rights
Copyright Infringement and Publicity Rights are not at issues in this lawsuit but it's important to note that, Anna Wintour did not authorize the use of her image to promote the album and some pages of the magazine have no modifications, constituting an exact reproduction of Condé Nast's copyrightable content. Despite Drake tagging Vogue magazine and its Editor-in-Chief Anna Wintour on IG, Condé Nast made it very clear in their lawsuit that they have had NO involvement in "Her Loss" or its promotion, and have not endorsed it in any way.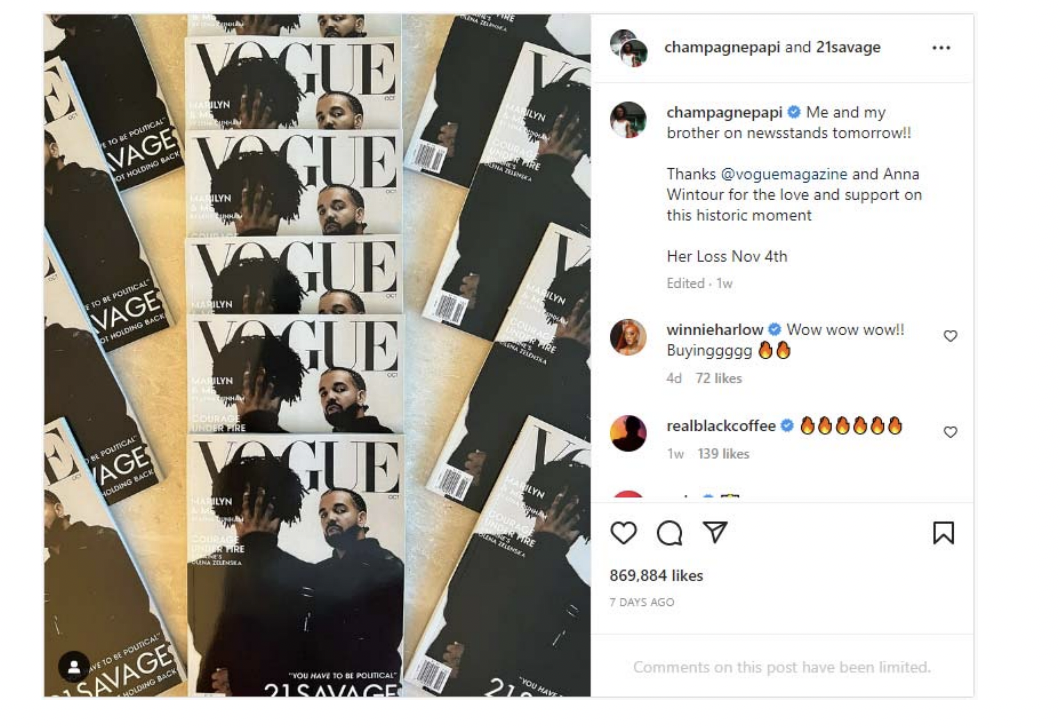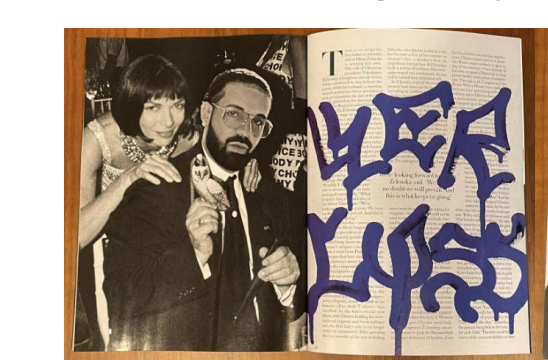 Temporary Restraining Order (TRO)
Vogue has already landed a win in the first round. On Monday, Judge Jed Rakoff of the U.S. District Court for the Southern District of New York ordered Drake and 21 Savage immediately refrain from using Vogue's trademark-protected name to promote their album, Her Loss, and continue to hold off from doing so until at least November 22nd when counsel for the parties are slated to appear in court to show cause for a longer-term preliminary injunction. "A temporary restraining order is necessary … to protect the public from confusion, deception, and mistake, and to protect Condé Nast from immediate irreparable injury," according to the court, which ordered that Drake and 21 Savage be barred from disseminating more of the counterfeit materials.
Additionally, the court is requiring them to "take down and remove all existing internet and social media posts on all websites and social media accounts … that contain or reflect: (i) any depictions of or references to the Counterfeit Magazine and/or the Counterfeit Cover, (ii) any use of the [Vogue] trademarks for commercial purposes, including … to advertise, market, or promote the album Her Loss, (iii) any use of [Anna] Wintour's name, image or likeness for commercial purposes, and/or (iv) any false or misleading statements or misrepresentations concerning the Counterfeit Magazine, the Counterfeit Cover and/or Drake and 21 Savage's participation or appearance in Vogue magazine."
Fans are wondering if this was a calaculated risk? Knowing that a Vogue marketing campaign would generate a ton of buzz and that 90% of cases settle. This is not the first time a musician has recently faced a trademark infringement lawsuit while promoting a new release. Nike sued brand MSCHF after it collaborated with rapper Lil Nas X on modifying Nike Air Max 97s into "Satan Shoes" that were sold at the same time that the rapper released his single "Montero (Call Me By Your Name)" in 2021.
If this case does go to trial, Vogue is asking for Statutory Damages of up to $4,000,000 in addition to court costs/reasonable. attorneys' fees. The case is Advance Magazine Publishers v. Aubrey Drake Graham, et al., 1:22-cv-09517 (SDNY).
🔔 Disclaimer: This post does NOT constitute legal advice. All of our blog posts, content, and comments online and on social media are for general informational and educational purposes only. Viewing this post does not create an attorney-client relationship with The Law Office of Clarissa Harvey. We are not responsible for any action taken by a reader based upon any information on social media. You should always seek appropriate legal advice offline from an attorney licensed in your jurisdiction to discuss the specifics of your case.
© 2022 The Law Office of Clarissa Harvey