Yes! It is possible to register a sound mark. In fact, Rapper Pitbull did. His signature yell, "EEEEEYOOOOO" has become so iconic that his fans use this sound instantly to identify a Pitbull song or performance. On October 8, 2019 , the USPTO issued Pitbull two federal trademark registrations for his sensory mark. Registration No. 5,877,076 and 5,877,077 in Class 041 and Class 009.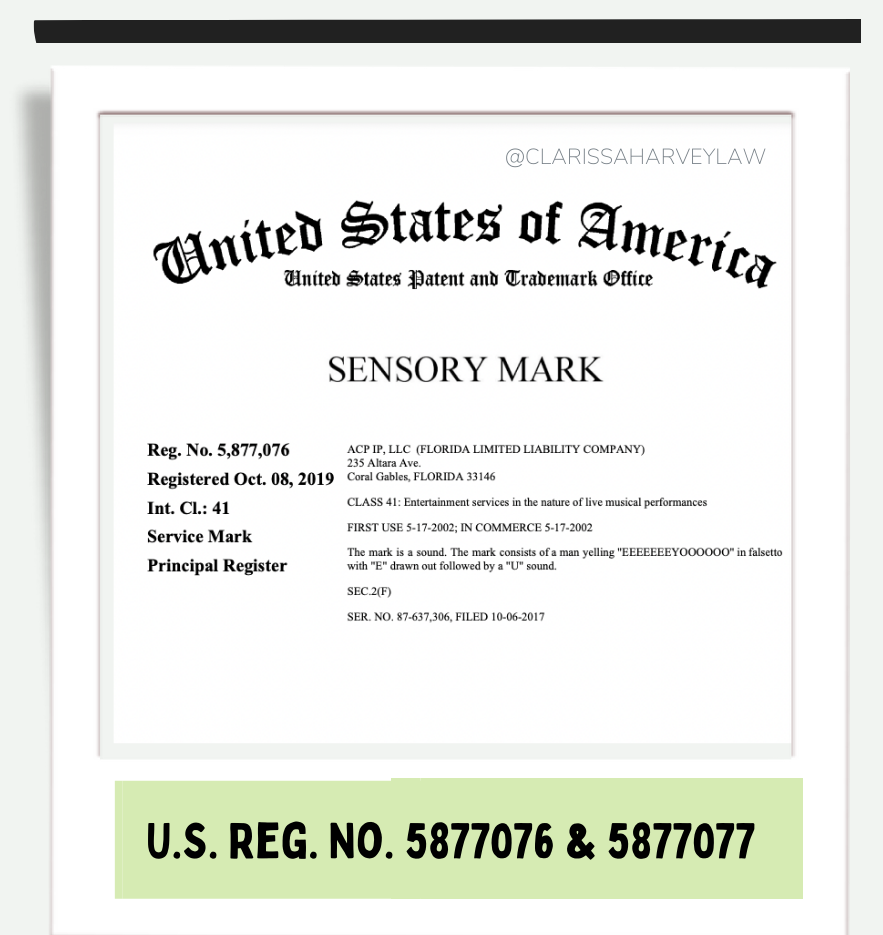 Sound marks belong to a special group of trademarks referred to as "sensory" trademarks. The Lanham Act defines the term "trademark" to include "any word, name, symbol, or device, or any combination thereof . . . used by a person . . . to identify and distinguish his or her goods from those sold by others " In expanding this universe of symbols and devices the USPTO recognizes, as long as they are not functional, (1) Shape of a Product aka "Trade Dress" (2) Scent and (3) Color as other, non-traditional, marks eligible for registration.
But, just to make sure we are clear, you can't trademark a sound just because you like it and don't want anyone else to use it. Sounds are only eligible for registration on the Principal Register when they are able to successfully make an association with a particular product or service used in commerce. So, rest assured, you won't be getting a cease-and-desist letter from Pitbulls legal team for yelling out "EEEEEYOOOOO". Pitbull's scope of protection is limited to the use of this sound only in connection with the sale of "entertainment services in the nature of live musical performances" and "musical sound recordings; musical video recordings".
As with word marks, sound marks fall on a spectrum of distinctiveness too ( if you are not familiar with the term "distinctiveness", check out our previous blog post– and I'll will catch you up to speed ). This spectrum ranges from arbitrary marks to those that are consdiered "imitate 'commonplace' sounds that humans are accustomed to hearing. Commonplace sounds are incapable of identifying one single source and are not be eligible for registration unless they have acquired distinctiveness.
After reading that, I know you're probably think… well how in the heck did Pitbull obtain a registration? People yell on songs all the time? And you're absolutely right, his sound is commonplace and NOT inherently distinctive. But, nonetheless, he was able to successfully prove to the USPTO that he has acquire distinctiveness ( ie. used the mark in national prime time advertising for Pepsi® and Budlight®, made over $10M in performance income, $12M in publishing, $100M in tours, featured in a Warner Brother's® Film). Very few artists, other than "Mr. Worldwide"himself, have attain the level of success to pull it off .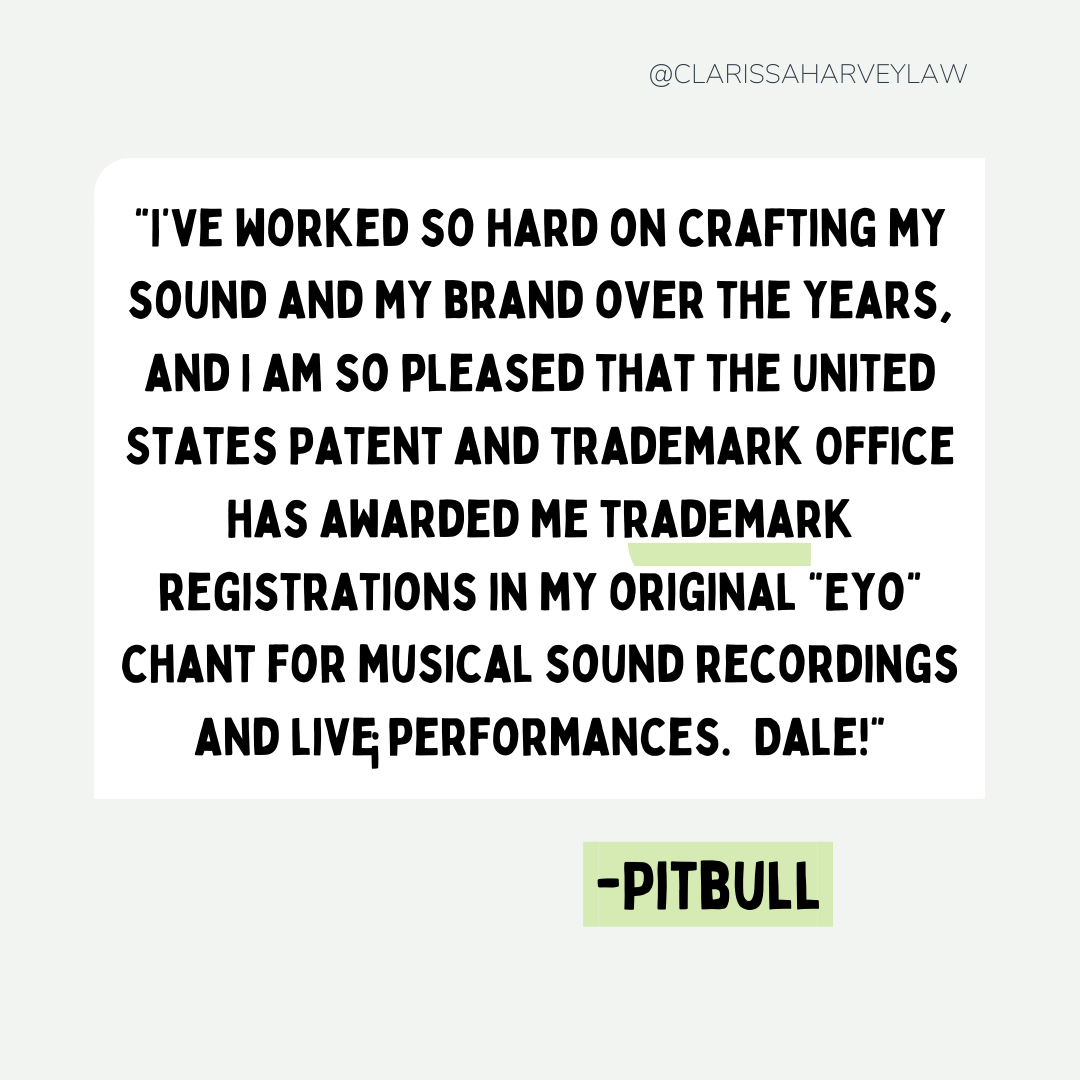 Pitbull is The First Music Artist to Successfully Register a Sound Call 2
Sound mark registration are extremely rare. As of Q1 2022, there are more than 2,908,053 active trademark registrations in the United States, yet only 369 of those are sensory trademarks. Are you shocked? I am! I don't know what's more shocking, the limited number of sensory registrations or the fact that Pitbull is the first to ever do it in 2019?
Sound calls are nothing new. In Hip-hop, they are referred to as "producer tags", and have been used in music industry since the early '90s. Some examples of producer tags you've recently heard might include: "Run that back, Turbo!" ( Turbo); "Another one." (Dj Khaled); "If Young Metro don't trust you…"(Metro Boomin); "Murda on the beat so it's not nice" ( Murda Beatz) ; and "Yo Pi'erre, you wanna come out here?" ( Pi'erre Bourne) to name just a few.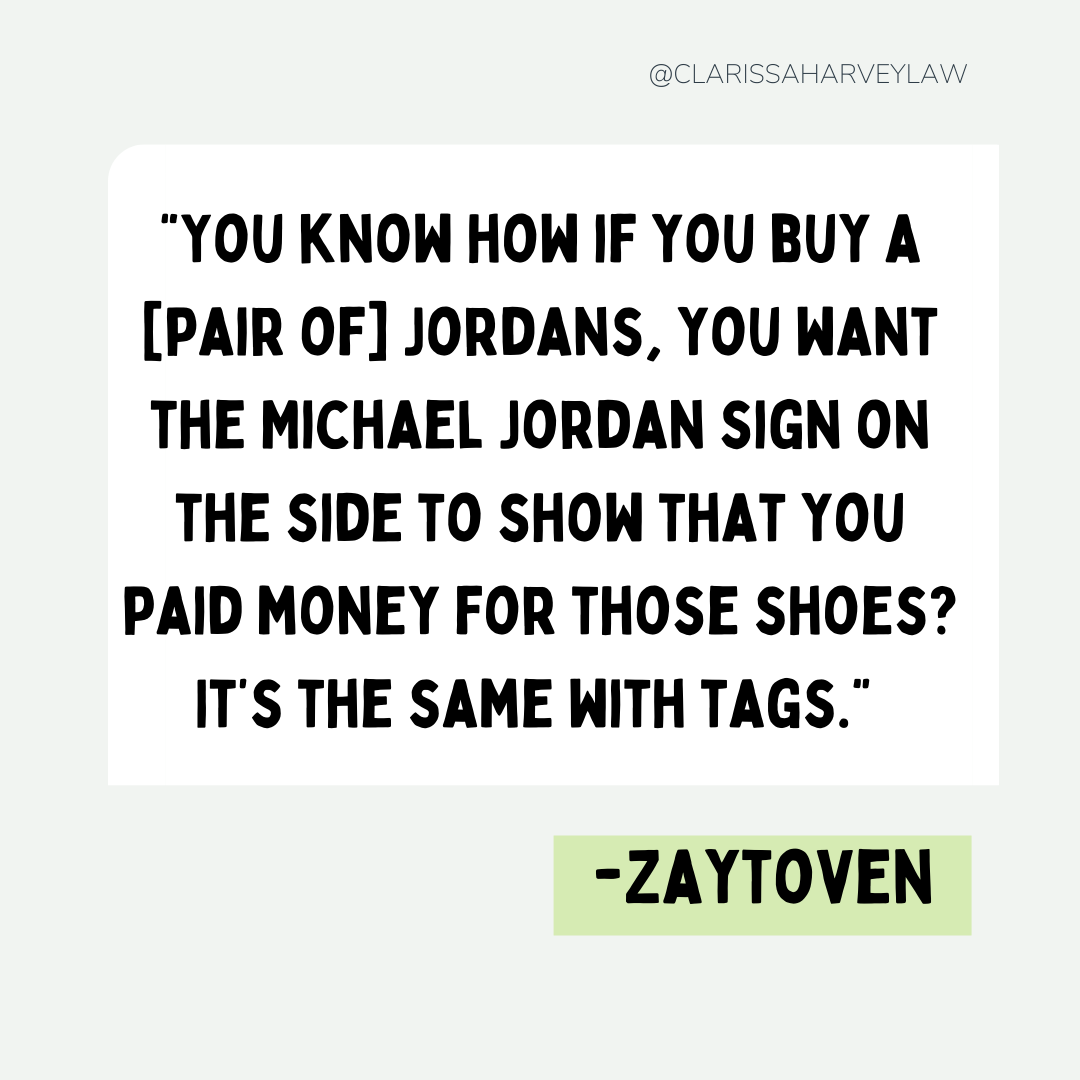 What Sparked The Registration?
There was evidence of actual confusion- when fans heard a similar "EYO" sound in the song, " Mi Gente", released in June 2017, by Colombian singer J Balvin and French producer Willy William, which had absolutely ZERO connection to Pitbull. This prompted him to quickly seek Trademark protection– so that others can't use his brand without his consent and without getting paid. The confusion resulted from a 2-3 second stretch.' First appearing at the 0:52 mark and repeated twice more on the track.
The Next Wave:
Run, don't walk! This is the future of trademark law. Artists are starting to wake up and understand how much power and influence they really have. Artists are realizing the amount of wealth they are losing out on just by lacking brand ownership and control of their intellectual property. As a result, I think we will likely see an influx of Trademark Applications and Registrations for sound marks from producers and music artists alike in the hiphop industry. Which is a movement, I am really excited about.
Resources:
1. Here are some additional USPTO sound marks that you probably didn't know were registered.
https://www.uspto.gov/trademarks/soundmarks/trademark-sound-mark-examples
2. NYU School of Law Journal of Intellectual Property and Entertainment Law, published an essay about the evolution of Pitbull's "grito" (a traditional Mexican shout); the history and cultural significance of the "grito" in Latin music; the law involving sound trademarks. Justin F. McNaughton, Esq., Ryan Kairalla, Esq., Leslie José Zigel, Esq., and Armando Christian Perez.
https://jipel.law.nyu.edu/eeeeeeeyoooooo/