Unicolors, Inc., a small Los Angeles based fabric and design company filed a copyright infringement action against H&M, the fast-fashion retail clothing store. In 2011, Unicolors created and registered, as part of a collection of designs of two-dimensional artwork, a fabric called EH101. In 2015, H&M began selling a jacket and skirt with an art design they named "Xue Xu." Unicolors learned of H&M's similar design and filed a lawsuit in the United States District Court for the Central District of California, alleging that the Xue Xu design is identical to its EH101 design.
At trial, the jury found in favor of Unicolors finding that H&M willfully infringed the EH101 copyright and consequently awarded damages to Unicolors for lost profits and profit disgorgement in the amount of $117,000.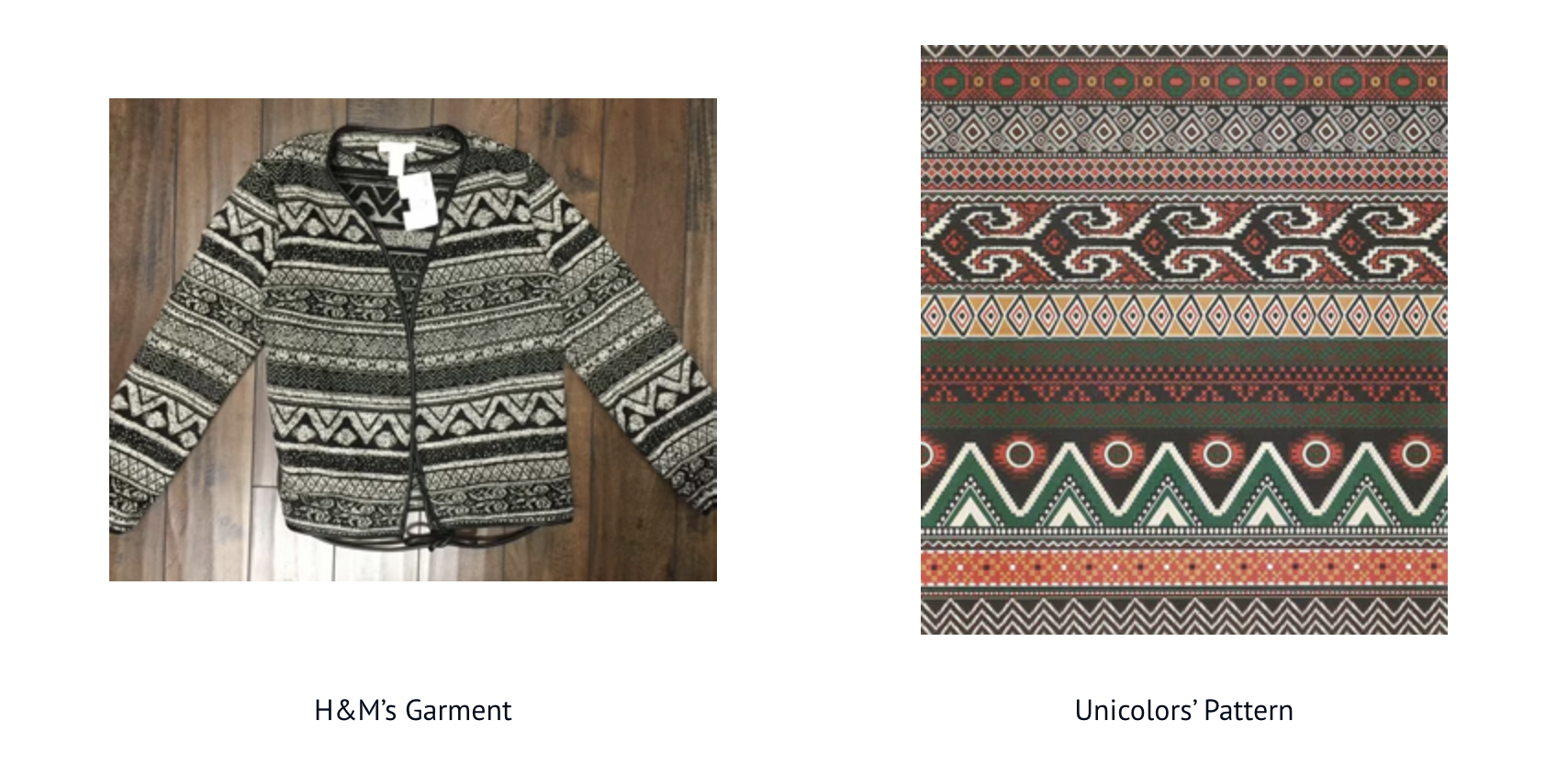 Unicolors, Inc. almost lost the case because of issues with their Copyright Application
H&M sought judgment as a matter of law, arguing that Unicolors could not maintain an infringement suit because Unicolors knowingly included inaccurate information on its registration application, rendering its copyright registration invalid. Based on testimony presented during trial, H&M discovered that the 31 works listed in the '400 Registration were not all published on January 15, 2011. At least 9 of the fabric designs (although not EH101) were never published.
The alleged inaccuracy stemmed from Unicolors having filed a single application seeking registration for 31 separate works despite a Copyright Office regulation that provides that a single application may cover multiple works only if they were "included in the same unit of publication." H&M argued that Unicolors did not meet this requirement because Unicolors had initially made some of the 31 designs available for sale exclusively to certain customers, while offering the rest to the general public
Takeaway:
(1) Register your copyrights. A valid copyright registration provides a copyright holder with important legal advantages, including the right to bring a "civil action for infringement" of the copyrighted work. 17 U. S. C. §411(a).
(2) Avoid submitting inaccurate, combined filings (as opposed to separate applications for non-bundled works) in an effort to cut costs.
The case is Unicolors, Inc. v. H&M Hennes & Mauritz, L.P. et al., 2:2016-cv-02322 (C.D.Cal.)
🔔 Disclaimer: This post does NOT constitute legal advice. All of our blog posts, content, and comments online and on social media are for general informational and educational purposes only. Viewing this post does not create an attorney-client relationship with The Law Office of Clarissa Harvey. We are not responsible for any action taken by a reader based upon any information on social media. You should always seek appropriate legal advice offline from an attorney licensed in your jurisdiction to discuss the specifics of your case.
© 2022 The Law Office of Clarissa Harvey