Kevin Michael Brophy ("Plaintiff"), a married father of two who lives in Costa Mesa and works as a marketing manager for a "socially-conscious" surfing lifestyle company sued Cardi B, the Grammy-winning musician and her company, Washpoppin Inc., in Federal Court in Southern California, seeking $5 million dollars in damages. Belcalis Almánzar, the rapper's real name, appeared in court by and through counsel and testified during the trial. The Plaintiff alleged that Cardi B misappropriated his likeness in "a misleading, offensive, humiliating and provocatively sexual way" in order to launch her career and that every download and stream was a result of his likeness (the tattoo) on the rapper's debut mixtape, Gangsta Bitch Music Vol 1. On the cover art, Cardi B is shown sitting in the back of a car, staring into the camera, drinking a bottle of Corona beer while a man with a back tattoo has his head between her open legs. Again, this was a Right of Publicity and Invasion of Privacy lawsuit brought by the Plaintiff. The Tattoo artist did not sue for Copyright Infringement.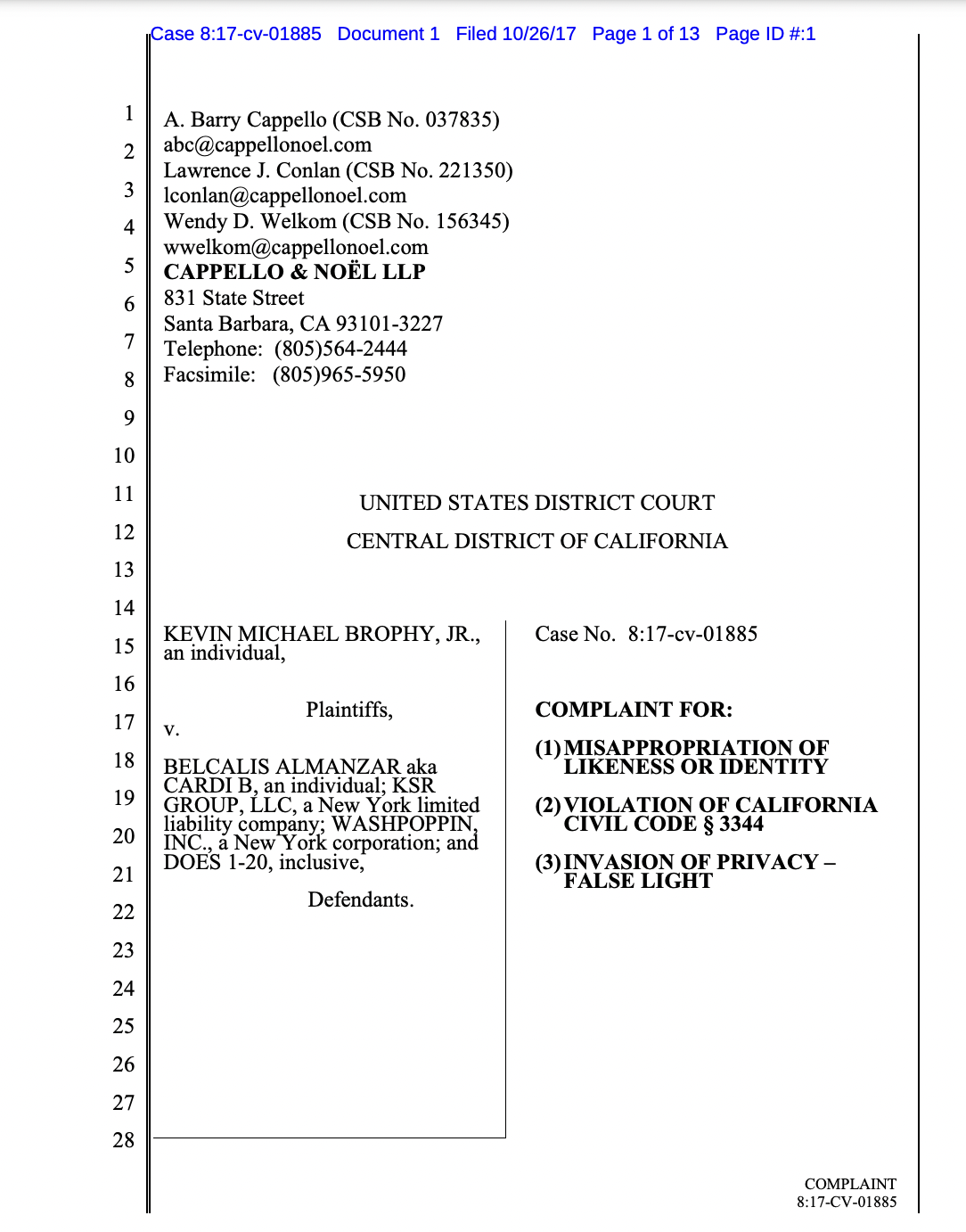 What Is Right of Publicity and False Light Invasion of Privacy?
The right of publicity is an intellectual property right that protects against the misappropriation of a person's name, likeness, or other indicia of personal identity—such as a nickname, pseudonym, voice, signature, likeness, or in this case, a tattoo—for commercial benefit. Certain state legislatures have also extended publicity protections to a period of years after death, with a dozen jurisdictions now recognizing a postmortem right of publicity by statute. False light invasion of privacy is a cause of action for portraying an individual unflatteringly in words or pictures as someone or something that person is not. Some states recognize the concept by either common law or statute.
Oh The Drama: Let's Talk about the Trial
The trial kicked off last Tuesday and started off with drama: Cardi B and the Plaintiff's attorney had some heated exchanges. The judge dismissed the jurors from the courtroom and told counsel he had "totally crossed the line," threatening to declare a mistrial.
Right of Publicity
The designer of Cardi B's album cover, testified that he was given $50 to create a cover for Cardi's mixtape. The designer ended up googling "back tattoos" and photoshopping a random one onto the cover. The Plaintiff said, "[t]his was a long journey to get this tattoo. It took a lot of commitment...to see it in this light was a complete slap in the face and a complete disrespect to me and my family." He also said, "[this] was [his] Michelangelo" citing the time (50-60 hours over the course of a year and a half), money, and effort put into the tattoo. He said he tried to settle. But, Cardi claims she hadn't seen the letter. Her response was that checking the mail is for "old people".
Cardi said the Plaintiff isn't even identifiable. Pointing out that the model in the image doesn't look like the Plaintiff at all. Cardi B's lawyer argued the First Amendment protects transformative use, pointing out that they only took a portion of the tattoo (the image of the tiger). And put it on a "toned, muscular, black model who has a full head of hair." He added that the Plaintiff "is a white man with a shaved head".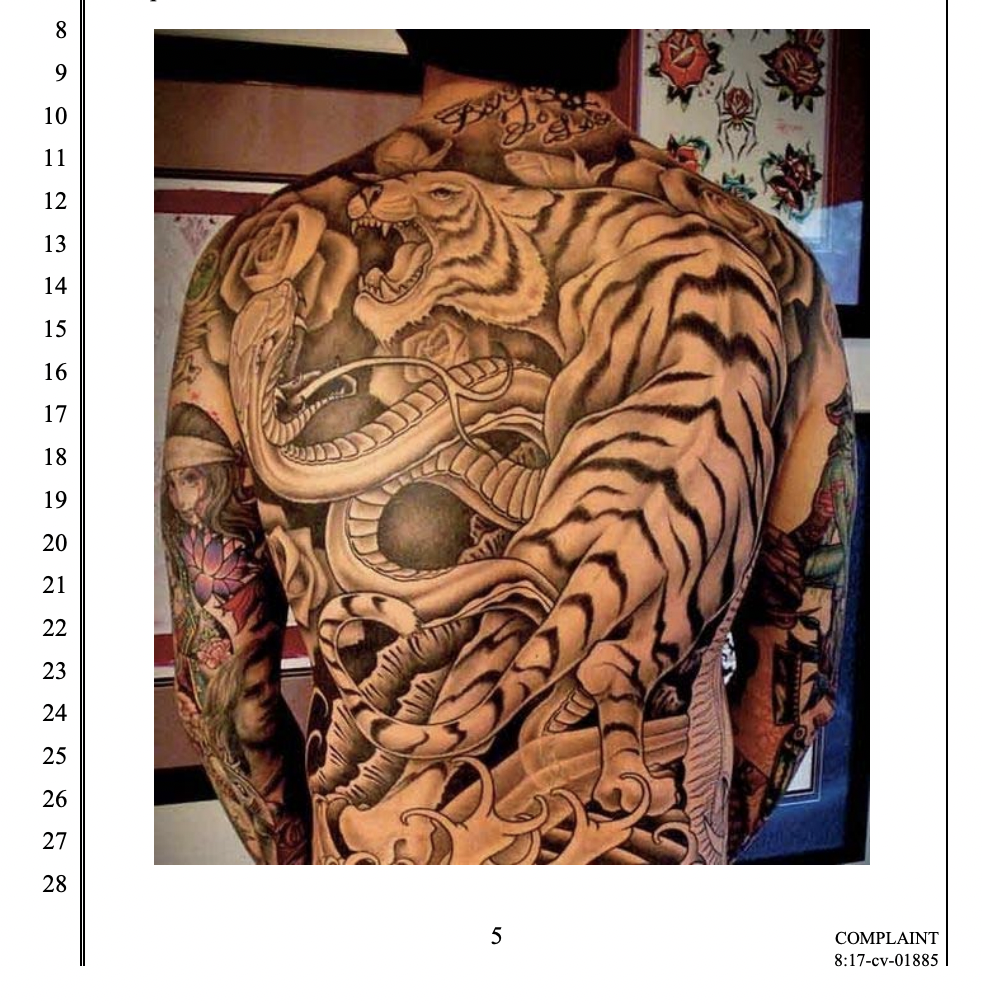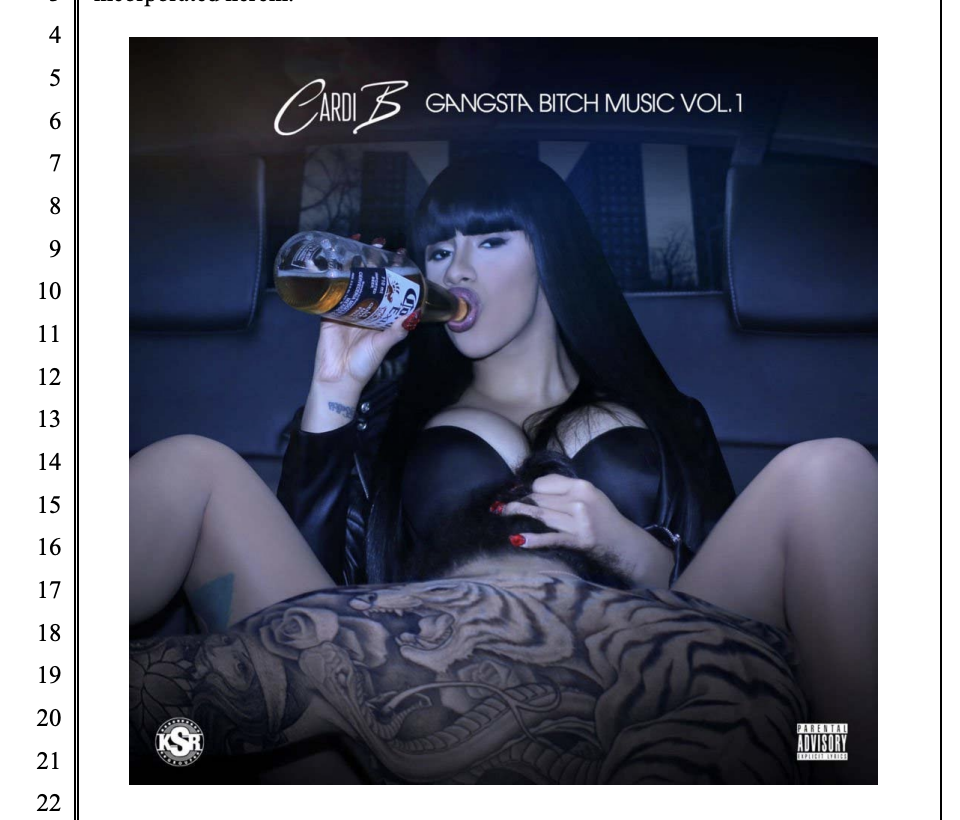 Why did they bring up transformative use? Well, freedom of expression is based in the First Amendment of the Constitution. The Amendment directs Congress to "make no law ... abridging the freedom of speech," and is applicable to states through the Due Process Clause of the Fourteenth Amendment. The Third and Ninth Circuit Courts, as well as the State of California, have adopted the "transformative use test." Under this test, unauthorized use of an identity is permissible if the use adds significant creative elements and sufficiently transforms the likeness or identity into original expression. Courts have thus far only applied this test to football videogames using the likenesses of athletes, and none has found the use of these athletes' likenesses adequately transformative.
False Light- Invasion of Privacy:
The Plaintiff claims he was devastated as a result of the trauma to his wife and children; he worried that his wife believed he had betrayed her. The Plaintiff told the jury that he worries his young son and daughter will eventually see the cover or that their friends will show it to them. Cardi B questions how the Plaintiff was harmed. "He hasn't gotten fired, he hasn't gotten divorced." Cardi B says, "It's insulting to her, as a woman, that a man is claiming responsibility for her fame, from a very small portion of his tattoo." Cardi B's attorney made the argument that the Plaintiff was trying to "cash in the equivalent of a lotto ticket".
Outcome:
The jury found that Cardi B's company, Washpoppin Inc., did not invade the Plaintiff's right of privacy or misappropriate his likeness by using his tattoo on the cover of her mixtape.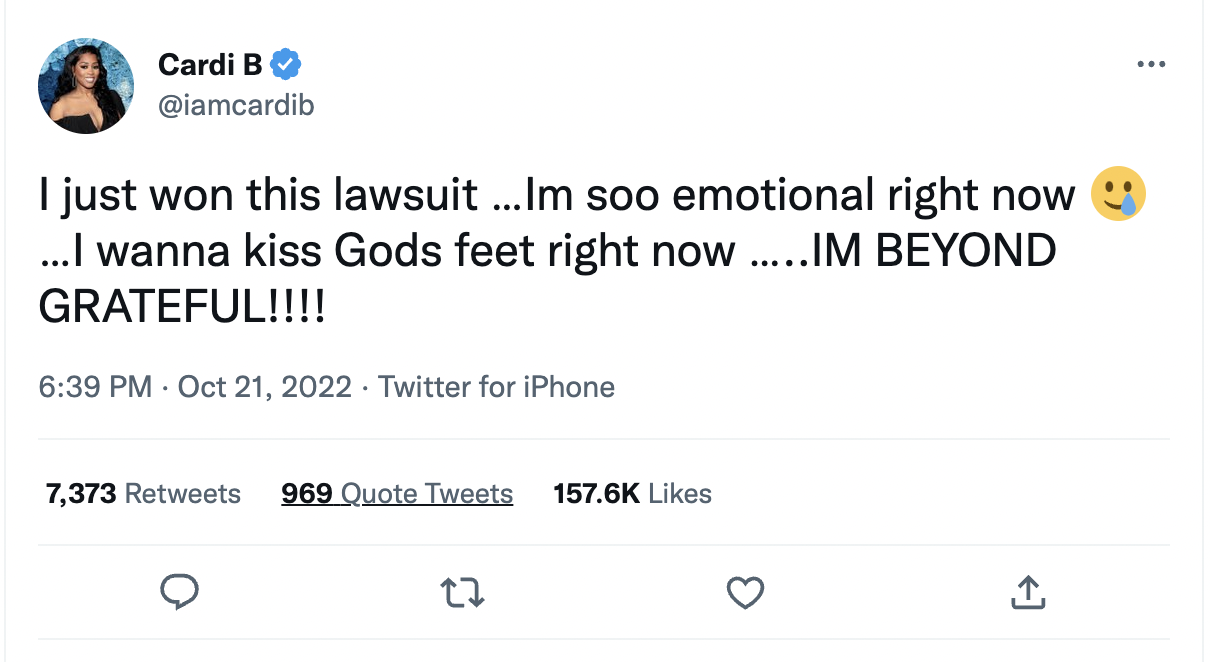 Takeaway:
1. Don't use photos from Google or any online platform without prior written consent from the Copyright holder.
2. When you want to use someone's name, image, or likeness (NIL) for commercial use CYA and have them sign a Release in advance. A release is a legally binding contract that ensures everyone is aware of how their name, image, or likeness will be used, addresses compensation, and ensures you've legally obtained their written consent.
3. Check your mail and don't ignore cease-and-desist letters. These issues can usually be resolved amicably and quickly outside of court without the media and for far less than the cost of trial.
🔔 Disclaimer: This post does NOT constitute legal advice. All of our blog posts, content, and comments online and on social media are for general informational and educational purposes only. Viewing this post does not create an attorney-client relationship with The Law Office of Clarissa Harvey. We are not responsible for any action taken by a reader based upon any information on social media. You should always seek appropriate legal advice offline from an attorney licensed in your jurisdiction to discuss the specifics of your case.
© 2022 The Law Office of Clarissa Harvey